Far East offer all customers home delivery. Terms of delivery, home delivery prices and minimum purchases are listed below.
Distance
Price
Min. purchase
0 - 2 km
60 kroner
140 kroner
2 - 3 km
70 kroner
140 kroner
3 - 4 km
80 kroner
140 kroner
4 - 5 km
100 kroner
300 kroner
5 - 6 km
150 kroner
450 kroner
>6 km
Covenantal*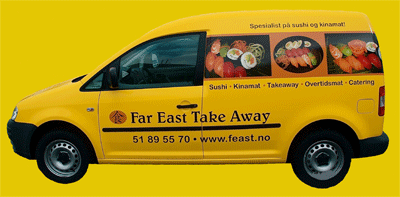 Catering delivery is agreed on a case by case basis.
The driver accepts both cash and card. We accept BankAxept, and most debet cards. We do not accept credit cards.
The food is payed in cash or by card on delivery or pickup. We do not have any line of credit.
Home delivery is offered between the hours of 15:00 and 21:30, but in order to offer the best service to our customers we ask you to please place your order in good time, and before 21.30 at the very latest. We also kindly ask customers with large orders to please place them well in time before delivery.
*Far East reserves the right not to deliver to some locations at times because of a massive driving time. This could be due to rush traffic or that the destination is too far away.
When delivery of food in periods of heavy traffic or business peak hours we can sometimes be a litle delayed. We will off course do our very best to get your hot food to you in due time, but sometimes we cannot predict the traffic let alone influence it in any way. Under these conditions we may be delayed and the food might not be completely as hot as we would like to deliver it to you. We ask for your understanding as these things are out of our control.